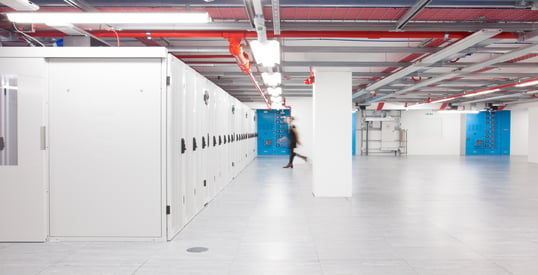 Data centres overview
Two surprisingly common questions among business leaders who previously had no cause to properly engage with a data centre, are:
What is a data centre?
At its most basic, a data centre (or "data center") is a robust physical facility that securely houses servers belonging to itself and/or 3rd party organisations. It shares applications and data via a network of computing and storage resources and comprises a range of components including switches, storage systems, servers, routers, and security devices.
Data centre infrastructure is typically housed in a facility organised by halls, rows, and racks that are supported by power and cooling systems, backup generators, and cabling plants.
What is a data centre used for?
Data centres are used by organisations of all types to securely house the critical IT hardware that stores, manages, and processes their data. They are also used as safe places from which computers and other digital equipment can communicate with other devices in offices, homes, other data centres, all the way up to the satellites that orbit the Earth.
Everything from business processes to government services and telecommunications depend on these computers interacting in this way and being able to securely exchange data.
However, though certain characteristics are universal, not all data centres are the same.
Read More